Description
Alexander and Wilks Kershaw Door Knob
Choice of Finishes: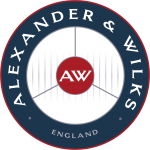 Unlacquered Brass AW-300-PBU
Polished Nickel AW-300-PN
Polished Chrome AW-300-PC
Dimensions:
Small Knob Diameter 41mm, Rose Diameter 41mm, Projection 48mm
Large Knob Diameter 51mm, Rose Diameter 51mm, Projection 48mm
The Alexander and Wilks Kershaw Door Knobs are exquisitely crafted from solid brass at exceptional prices. They have a traditional mushroom shape that has been created using classical British designs and finished in a polished brass unlacquered finish that will beautifully age over time, or bright and modern polished nickel or polished chrome finishes.
The design and finishes of this Mortice Door Knob have a look and feel that is well suited to modern and traditional homes, apartments, offices and commercial buildings.
Separate rose to allow mortice or rim fixing. The screws on the rose are visible for quick and easy screw-fixing.
As this is an Unsprung Knob, we recommend using a double sprung latch.
Available in two sizes; 41mm and 51mm.
Alexander & Wilks represents the very best of British-designed architectural hardware and ironmongery. Specialising in creating hand-crafted architectural hardware using both time-honoured craftsmanship skills, combined with the very latest computer-aided manufacturing, resulting in a collection of beautiful British ironmongery with flawless results.
Supplied in PAIRS complete with spindle and matching screws.