Description
Heritage Brass Electrical Plates – Elite Stepped Range Satin Brass
Finish Satin Brass – S04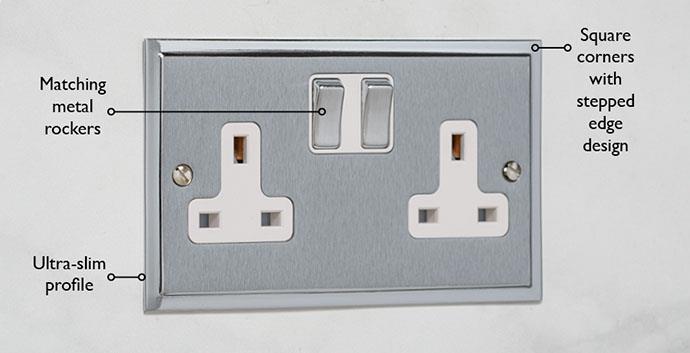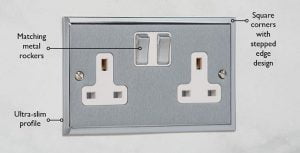 __________________________________________________________________
Most of these work with a box depth of 35mm – apart from Cooker switches which are 48mm.
Range
Elite Stepped Plate Range
Front Plate
Stepped plate
Plate Style

Visible Screws
Square Corners with Stepped Edge Design
Matching metal rockers
Ultra slim profile

Single Plate Dimensions (mm)
86 x 86
Double Plate Dimensions (mm)
147 x 86
Box Depth (mm)
25-48
Plate Profile (mm)
1
____________________________________________________
Elite Stepped Plate is an elegant range of electrical accessories featuring flat plates with an attractive stepped edge and contemporary square profile.Offering minimal projection this unique range provides a stylish alternative to traditional flat plate designs.
Competitively priced Elite Stepped Plate is available in a choice of luxurious finishes which includes Polished Brass and Polished Chrome together with Satin Brass, Satin Chrome and Satin Nickel dual finishes with polished edge.
Matching metal rockers with a choice of white or black trim lend a touch of sheer elegance. Elite Stepped is the ideal design choice to compliment modern decor schemes.
Available in a whole range of components and specials can be considered on request.
Choose from the options for the type required.
Here is some information regarding the various plates and functions.  However we advise you to contact an electrician for more information.
Dimmer Switches – there is a choice of normal and dimmers for LED bulbs which are different. Please check whether the switches operate LED bulbs.
Toggle switches are also known as dolly switches.
Blank plates – available in single or double plate size
Single and Double Switched sockets are available with and without USB ports.
Cooker Switch – available in options – Double plate with switch and 45A cooker unit.  Single plate – cooker unit only.
Rocker Switches – Available in 1, 2 3 or 4 Gang (number of switched on plate) 1-3 are on singles plates – 4G on double.
Intermediate Switches are used for when there are three switches (or more) controlling one light. You would need the middle switch (the one at the top of the stairs) to be an Intermediate Switch.