Description
Alexander and Wilks – Portinscale Rim Lock – Polished Brass Unlacquered AW101PBU
The Alexander and Wilks Portinscale Rim Lock is a traditional beaded horizontal rim lock with a flanged case, a snib and keep.
It is available in three finishes; cast iron with brass details, or crafted from solid brass and finished in bright polished nickel for a more modern touch or unlacquered polished brass that will naturally age over time to create a warm and tactile patina.
Sourced for their original period designs and excellent quality. The Regency design of the Portinscale rim lock makes these ideally suited to older properties, for a classical, period feel.
This is a Rim Lock with Snib meaning it has a built-in snib which slides across – ideal for locking bathroom or bedroom doors and is not handed, so can be fitted either way upon any door.
Supplied in SINGLES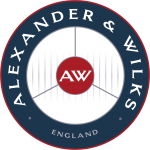 Please Note: Not suitable for use with Porcelain Door Knobs.
Dimensions
Lock Case Height – 108mm
Lock Case Width – 115mm
Keep Height – 110mm
Keep Width – 24mm